Hi there! Hope you've dropped by for the
SCRAPBOOK CHALLENGES
BLOG HOP! And if not, what are you waiting for? Join us and hop on first to
Pamela's World of Scrap
!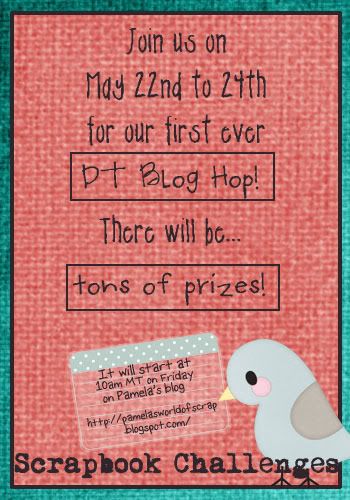 Why join the blog hop? Here are just a few of the
yummy goodies
you'll be

getting
and what you need to do to get 'em:
1. Leave a comment on ALL the blogs participating on the hop and have a chance to win the
May Scarlet Lime Kit
!
2. Make a layout based on the sketch below and get a chance to win a
kit from Studio Calico
and the
stamp set
! Note: Pls post it on either
Pamela's blog
or
Scrapbook Challenges group
.
Here's the sketch for you to have fun with! I know I did, coz I made two. =D
stamp set from Unity Stamp
! Please e-mail the answers to:
pamelacy@msn.com
. =)

Here are the questions:

a.) Which one of the DT members can taste something from a restaurant 1 - 2 times and recreate that meal? (Such an AWESOME skill by the way)
b.) Which member of the DT almost made it to the national fencing team when she was in college?
c.) Which DT member daydreams of painting her mustang Barbie pink?
d.) Which Scrapbook Challenges DT member was missing from our blog hop this weekend?

4. Leave a comment on Pamela's blog and you get a chance to win this personal RAK from her!



5. Leave a comment on my blog and tell me a random fact about Lily to get a chance to win this personal RAK from me!



International entries are welcome! Winners will be posted on May 25th! Now don't forget to HOP ON TO THE NEXT BLOG! It's our wonderful and talented DT member Cathy Beisher!

Thanks for stopping by and hope you had fun! Some little trivia about me as you leave on your quest:

1. I have a little daughter named Jillian who was born on the same day I married the love of my life. =)
2. I love coffee! My whole family would collect Starbucks mugs too...
3. I'm currently going gaga over Bo Bunny or SEI papers, K&Co or Doodlebug embellishments, and possibly can't scrap without Thickers.
4. I almost made it to the national fencing team when I was in college.
5. I let DH "quality check" my layouts.
6. I'm playing Farm Town on Facebook, so you can also come chat and harvest on "Bunny's Farm"! =P